App basic information
YOU are the new craftsman in town. Help the heroes in epic battles against fearsome monsters that lurk in the dungeons. Personalize and design your store, build epic armor, swords and gear for the heroes to defend your village. Team up with blacksmiths, tailors, priestesses, carpenters and herbalists to make your business prosper. Trade, sell or auction your products to the highest bidders from other shops. Sell your goods to warriors and even add a surcharge! Show off your medieval style by customizing your avatar. Choose from different types of clothing, hairstyles, eye color and more to make your avatar unique. Once you're ready, the adventure begins! Follow the Elder, Owen, in the tutorial of this RPG simulation game, and learn how to build and manage your store to become the kingdom's greatest tycoon! Now it's time to build up your very own store. First, you'll dust off the accounting table. How are you going to become a successful business mogul if you can't keep your accounts? This is the most important part of every store. You must be ready to take orders from the champions and heroes! Next, you'll learn how to craft epic gear to outfit the heroes and champions to get them ready for battle. You'll design the layout of your store for optimal shopping, customizing it to attract as many customers as possible. Ensure that you manage your store well to become the top shopkeeper in this fantasy kingdom and build your fortune! Make offers, discount, and trade for new gear to equip heroes for battle. Become a medieval kingdom Tycoon and embark on adventure to hidden lands! In this fantasy adventure you can: • BECOME a master shopkeeper! • CREATE and CUSTOMIZE your own fantasy shop ... in 3D! • TEAM UP with your friends and build a prosperous town! • RECRUIT and customize your own heroes, each with their own skills and equipment! • TRADE with players from all over the world! • BATTLE bosses and CONQUER mysterious dungeons to acquire rare loot! Shop Titans is a simulation RPG game that consists of building your own shop within a fantasy kingdom. In it, you can craft and sell armor, swords, potions and all kinds of gear and equipment to heroes to help them in their adventures. With the money from the sales you can expand and customize your shop to become a business mogul in the village. Heroes of all kinds can enter your store: warriors, wizards, dwarves... even ninjas! Help your heroes and champions in legendary battles against the most powerful bosses! The quest mode of Shop Titans is similar to other famous RPG and simulation style games. You will recruit a team of heroes who will battle against ogres, orcs and other creatures in epic combat. Use sword or magic to defeat them and receive gold coins to spend in your store. In addition, these quest rewards will give you materials to help create new weapons and gear, enabling you to access increasingly difficult duels. Build up your store as fast as possible to support the heroes who will protect and defend your village. Get rich by selling items you craft in your store, building a crafting empire! For each epic war a hero fights successfully, you will receive rewards for equipping them with weapons and armor. Open a chest to discover what new items you have available to build new swords, shields, armor and more! Install Shop Titans for free NOW to design, craft, build and quest your way to the top as an epic mogul in this fantasy simulation RPG game! Note: Shop Titans is a free game which allows purchases with real money within the app. TERMS OF SERVICE: Please read this Terms of Service Agreement and our Privacy Notice before using our services as they govern the relationship between you and Kabam. www.kabam.com/terms-of-service/ www.kabam.com/privacy-notice/
---
Monetization
Schematic diagram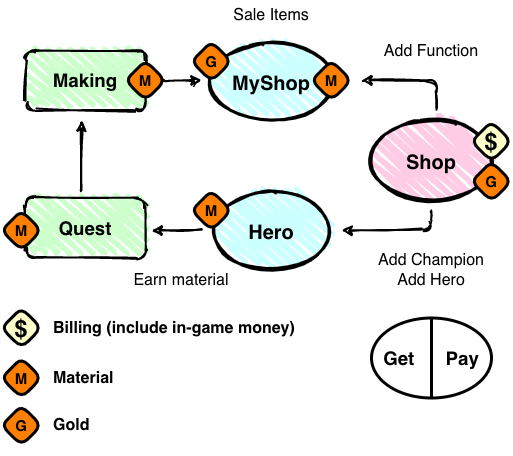 Monetization structure analysis
■ No-charge/fine-charge area
It is a game to make your equipment shop bigger and decorate.
There is also an element to develop a hero character.
It is likely to be in the game that can be enjoyed even without charge.It's important to earn gold efficiently.
By using in-game currency instead of gold, you can efficiently grow shops and characters.
Because there is a category of recipes and equipment that can not be reached if it is not charged,
You'll need to pay a certain amount of money to enjoy the game in earnest.
In the second half of the game, the gold required to train the shop will also become out of order,
This is also a point to encourage billing.
■Charging element ・Mainly advertising exclusion type
Such as additional content, such as equipment recipes that can not be purchased without charge,
Packages in the lower price range in the early stages of the game have become attractive.
In addition, special characters called champions, to get without charge
The first hurdle is a high product.
There are regular set sales such as great recipes and furniture to decorate your shop.
In-game currency is possible, such as the expansion of the shop and the employment of heroes can also be in gold,
By using in-game currency, you can expand efficiently.
The balance of the game itself is very thought out, and it is a point that it is a level design that motivates billing at the turning point.
List of billing contents
Summary of types of monetization in-game purchases
Added functionality

Limited-time effect

Character Free-to-Play

In-game currency sales