App basic information
First, you saved the girl. Now you must save the guy in your next level scenario puzzler! The other tricky and relaxing puzzle game you've been seeing all this time is also now a reality! The man is trapped in a complex funny scene that only the smartest will be able to solve. Pull the pins in the right order to save him. However, if you fail it will be doom for our hero! Each level is unique with different results whether you solve them correctly or fail. Feel the satisfaction whether you win or lose. Feel the gratification of solving funny and difficult problems and protecting the man from harm's way. Use that big brain of yours and start pulling him out of trouble! Game Features: 1. Don't get fooled! Each level presents you with multiple choices - pull the correct pins to proceed. Wrong answers will result in painful but funny outcomes for our man! 2. So many levels to play Each level is unique. So many different challenges for you to solve. 3. Simple and Addicting Gameplay Once you start pulling him out of danger, you'll never want to stop. You'll want to keep solving the upcoming puzzles. This is the best puzzler out there! 4. It is that other game from those ads Yes, it actually is. Whether you are a fan of puzzlers, word games, trivia games, quiz games, brain teasers, or you are just curious what those ads are all about, then Pull Him Out is the game for you! Will you pull the right ones out? Visit https://lionstudios.cc/contact-us/ if have any feedback, need help on beating a level or have any awesome ideas you would like to see in the game! Follow us to get news and updates on our other Award Winning titles; https://lionstudios.cc/ Facebook.com/LionStudios.cc Instagram.com/LionStudioscc Twitter.com/LionStudiosCC Youtube.com/c/LionStudiosCC
---
Monetization
Schematic diagram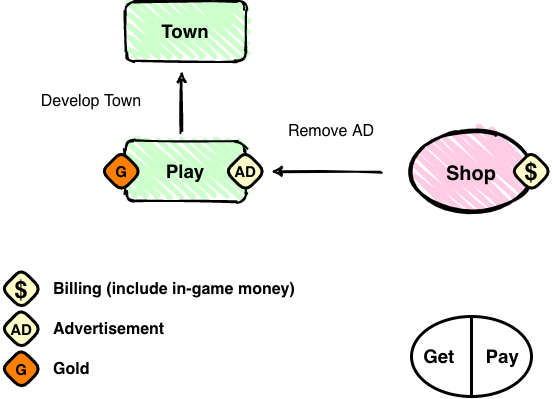 Monetization structure analysis
■ No-charge/fine-charge area
The main billing element is the ad exclusion.
You can play in its own way even if there is no charge, but you will see a large amount of advertising.
It is recommended because the advertisement is removed by a small charge.
The game is a puzzle system.
Because you can play slowly for three days, it is the best way to kill time.
■Charging element ・Mainly advertising exclusion type
As mentioned above, it is only ad exclusion.
On the other hand, if you don't get rid of the ads, you'll see so many ADs that you can't play.
List of billing contents
Summary of types of monetization in-game purchases
In-Game ADs

AD exclusions