App basic information
---
Monetization
Schematic diagram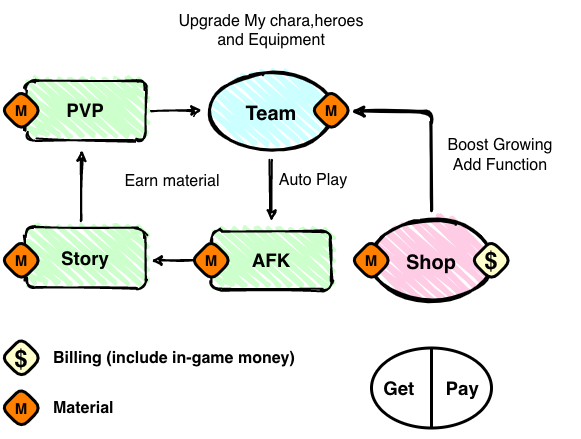 Monetization structure analysis
■ No-charge/fine-charge area
As you can see from the schematic diagram, it is a common type of game that trains characters and enjoys stories and PVP.
However, the number of elements is huge.Although it is shown as M in the schematic diagram, I do not understand much myself because there are too many kinds of materials necessary for growth.There's an autogrow button so that's enough.However, it is very difficult to understand what is needed and where to obtain it for the next growth.
There are a wide variety of subjects to be trained, including my characters, followers, equipment, and pets.
It looks like a terribly cute character, but when you open the lid, it's a terrifying parameter game.
It is easy to play even for non-payment and fine-payment, and supplements the necessary materials with rewards.
There is also a convenient additional function charge for small charges (such as batch functions).
If you extend your reach to PVP and aim for higher ranks, you will not be able to catch up with no charges or small charges.
It seems that people who like to grow up carefully can get tired.
■Charging element ・Main is training type
Anyway, since there are many elements in the game, billing is set up in places.
Is it worth paying attention to the feature-based billing for small payers?
There are multiple packages, and the functions will be expanded with a time limit.
A function is added that allows you to perform operations in bulk at a low price.
Characters and equipment are types that collect pieces.
Sometimes you can draw characters and equipment directly from the loot box.
Since there is no advertisement-based billing element, it seems that in-game currency billing is the main.
List of billing contents
Summary of types of monetization in-game purchases
Loot box

Add reward items

Added functionality

Limited time effect

Character purchase

Reinforcement pack

In-game currency sales