App basic information
*** BRAND NEW MODE: SHADOW INVASIONS *** This is a roguelike survival mode with over 20 skills available for you to combine. Faced with endless waves of monsters, all you can do is keep fighting, upgrading, improving your skills, and surviving as long as possible! *** SUMMON – COLLECT – LEVEL UP *** Over 100 heroes in seven factions. Build the ultimate formations and battle your way to the top. Celestials, Hypogeans, Dimensionals are the rarest. *** STRATEGIC BATTLE *** Equip your heroes and strategize unbeatable lineups to overcome your enemies in battle. Each faction enjoys formation buffs and factional advantages over other factions. *** RICH GAMEPLAY *** Progress through the campaign and fight the ancient evil Hypogeans from destroying the realm of Esperia. Race to the finish in King's Tower. See how far you can go into the Labyrinth with your relics. Battle other players in the PVP Arena mode. AFK Arena is a classic turn-based RPG with a huge variety of modes to keep you battling! *** NON-STOP PERKS *** The battle doesn't stop when you log off. Level-up even while you're AFK, and reap the rewards when you next log on - so you can jump right back into the adventure. Terms of Use (EULA): https://www.apple.com/legal/internet-services/itunes/dev/stdeula/ Privacy Policy: http://www.lilithgames.com/privacy_lilith.html
---
Monetization
Schematic diagram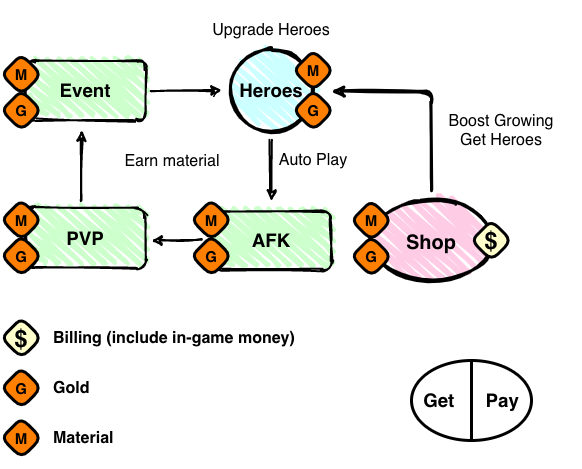 Monetization structure analysis
■ No-charge/fine-charge area
As the title suggests, AFK is a game sold.
Even if you do not launch the application, you will automatically get gold and materials used for growth.
It's rare for an abandoned game to use no video ads.
Therefore, the only way to close the gap with other people is to charge.
Since it requires the same character to strengthen the character, it is quite difficult if there is no charge.
Many great packs are sold at the shop, so if you can finely charge each month, there is no problem in playing.
For me, I really like the character design!
It's a good game even considering the overall balance.
■Charging element ・Main is character type
In any case, you will be charged for character training.
The base is the root box, so if you want to go higher in the PVP such as arena, you have to be prepared and charge for it to be effective.(Slightly charged will not catch up)
With a small charge, you can get items and in-game currency daily, so it's a perfect balance for casual enjoyment.
There are many types of billing contents, and there are various ones.
List of billing contents
Summary of types of monetization in-game purchases
In-game money/items distribution

Continuous purchase

VIP

Add season reward items

Loot box

Character Free-to-Play

Reinforcement pack

In-Game money